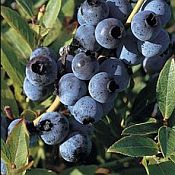 Vaccinium angustifolia (Lowbush Blueberry) A dense, low, spreading, compact form attractive enough for use in formal landscape settings as well as less formal, more naturalistic gardens. Its small white flowers in May are a valuable early source of nectar for pollinators and its abundant small, sweet, dark blue fruit is eagerly sought out by birds and small mammals in the summer. Tolerates dry, acid, poor soils and puts on a fiery show of orange-red to purple-red fall foliage color 1' tall by 3' wide. Native Zone 3.
Vaccinium corymbosum 'Bluecrop' New Midseason fruiting, yielding exceptionally heavy crops of medium to large, light-blue fruit. Habit is upright/spreading 4'-6' tall.
'Jersey' New Late, vigorous, upright growing with heavy production of large, light-blue fruit. An older variety that has withstood the test of time. Very popular.

'Late Blue' New (Highbush Blueberries) Very late fruiting with a trim, upright habit, 4'-5' tall and berries with a firm, strong taste.

'Northland' New Medium-sized, mid blue, sweet fruit. Very productive, rugged and reliable. 4' tall, possibly taller, by 5' wide. Leaves turn showy orange in fall.

'Polaris' New A half-high blueberry, 3' tall x 4' wide, producing excellent crops of sweet fruit in early summer. Attractive enough for landscape use owing to its tidy habit and its smallish dark green summer foliage that takes on beautiful shades of orange/red in fall.